With World Access Communications your clients can reach you anywhere, anytime!
A toll free number allows your customers or prospective clients located anywhere in the world to call your resort or business at no cost to the caller. It gives your resort or business a local presence in any city or country you're trying to gain customers, without the large cost of setting up an office.
Your World Access Communications toll free number comes with some valuable features including international call forwarding and time-and-day scheduling, at no extra cost. Using your provided online portal, you will have complete control of your toll free number and its many cool, free features.
So it doesn't matter where in the world your resort or business is located, your customers can always contact you without having to worry about the cost of an international call.
World Access Communications offers a variety of toll-free numbers. We have the 800 prefix or 888, 877, 866, 855, 844, and 833 numbers.
Seamlessly and quickly transfer your existing toll-free numbers from other providers to World Access Communications.
World Access Communications offers you much more than a toll free number. It's an entire cloud-based business phone system that will help you improve communications with your customers both locally and around the world.
Sign up now for a free trial !
Packed with Services and Features You Can Use
Call Recording Auto Attendant
How Our International Toll Free Service Works

Toll Free Number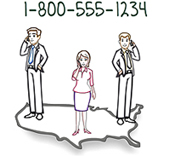 A toll free number offers a big company image to clients and other callers who want to contact you free of charge from wherever they are located.
we offer a variety of toll free number types, from 800 and 866 extensions to vanity numbers.
A vanity number is a phone number that spells a name such as 1800FLOWER or 1855COMPANY.
Professional Image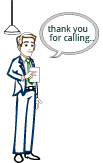 Create a professional image with a professional phone system that greets callers with a customized greeting, give them options such as press 1 for sales or 2 for customer service and route them to you by forwarding the call to one phone or all of your phones. Inform you through your callerid that it is a business call so you can answer the call professionally.
If you don't answer the call, it greets the caller with a professional voicemail and email you the voicemails so you can call them back. It also comes with a separate fax line as well as conferencing. A full package to give a professional image your business needs and deserves.
Never Miss a Call
Forward calls to your Sound Bigger business phone system to any phone including your mobile, landline and/or Voip. You can forward the call to all of your phone numbers at the same time or one after the other. Calls can be programmed to ring to your mobile phone for two rings and then to ring your home for 3 rings and so on. It can also be programmed to ring all the numbers at the same time. You can answer the call at any of your phone. If you miss a call then it is sent to a professional voicemail system and the voicemails are emailed to you. This way you don't miss a single call.
Customized Main Greeting
To add a big company feel you can use a custom main greeting to inform callers of their options, such as accessing information or reaching a specific department. It can say " Welcome to ABC company. Please press 1 for sales. 2 for Support etc.
Call Forwarding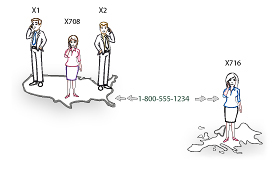 You never have to miss a call using this feature. You can have your phone system follow you where ever you go around the world.
Call Blast/ Call hunt
This feature allows to call up to 5 different phone numbers sequentially and you can answer in anyone of them. You can set up the phone to ring to your mobile phone, work phone and home phone. So you don't have to worry about missing a call.
Call Routing Extension
This feature allows you to distribute calls evenly across your sales staff or customer service staff. It also allows for multiple calls to be placed on hold.
Call Screening And Announce
This feature allows you to decide what you want to do with a call. You can answer a call, put it on hold, or send it to voicemail. You are also able to hear the callers phone number or name before you answer.
Listen To Voicemail On Wireless
With our wireless play feature you can listen to any message using your iPhone, Blackberry, or other PDA.
Web Based Administration
The on-line account manager gives you full control over any PBX feature at any time. View all Call Details, change the routing, listen to voicemails and view account transactions as well as many other features. All details are posted in real time, and all account changes are modified in real time as well.
Informational Extensions
You can setup specific extensions that provide pre-recorded information to callers 24/7, such as directions to your location or hours of operation.
Call Blocking
You can choose to block a specific phone number or area code from calling your toll free/local number.
Online Call Reports
You can review your usage and call statistic reports using your online web interface.
After-Hours Mode
This feature allows you to setup your phone system specifically for the time of day it is. For example, after hours you can set the system up to provide a different greeting.
Voicemail Delivery
This message delivery service sends voicemails in MP3 format directly to any e-mail address(es) that you choose.
Call Recording
Need to remember what is said in a call? Our call recording feature can come in very handy when you need to remember key points from a phone call.
Virtual Calling Card
Your phone number can be used as virtual calling card account number if you are ever in need of one. All you have to do is call one of our many access numbers, enter your toll free number and pin, and you are able to make long distance calls.
Voice Studio
Using the voice studio you can choose a voice talent and greet your customers in a professional way.
Dial-By-Name Directory
Using the voice studio you can choose a voice talent and greet your customers in a professional way.
Click To Call
Our Call Me Button service allows people visiting your website to submit their phone number to your website and instantly be contacted to a company representative. The System instantly connects both you and the website user.
Music-On-Hold
Allow callers to listen to music while they wait on hold. This is a feature that most big companies have.
True 800 Number
This is the original and most known extension for toll free numbers.
Toll-FREE Vanity Number
Vanity numbers help your clients remember you. You can choose a number for branding purposes, or simply for its significance (e.g. 1-800-4-BUY-NOW).
Transfer Existing Toll-FREE Number
We accept all transfer numbers free of charge.
Additional Toll-FREE Numbers
Call Queue
You have the option of setting up a queue on any extension. If you receive multiple calls, all of them will be put on a queue and routed to your phone on a first come first serve basis.