Why Utilize SIP Trunking from World Access Communications ?
World Access Communications cost-effective SIP Trunking services allow your business to connect your existing PBX equipment to the cloud. You'll only pay for the lines that you need. Since your international calls are routed through the cloud, you can save up to 80% on your existing international calling costs.
How SIP Trunks Work
SIP trunking is the virtual version of an analog phone line. SIP Trunking connects your existing PBX to the cloud, allowing your business to make and receive calls over your IP network. SIP trunks replace analog phone connections and allow your calls to be terminated over the internet.
If you have an on-premise PBX in your office, World Access Communications via SIP Trunking can connect to you and allow your business to make very low cost outbound calls on your existing system, without restrictions on the number of concurrent calls.
What is the major benefit ? Your business will save up to 80% on international calling costs while unifying your communications.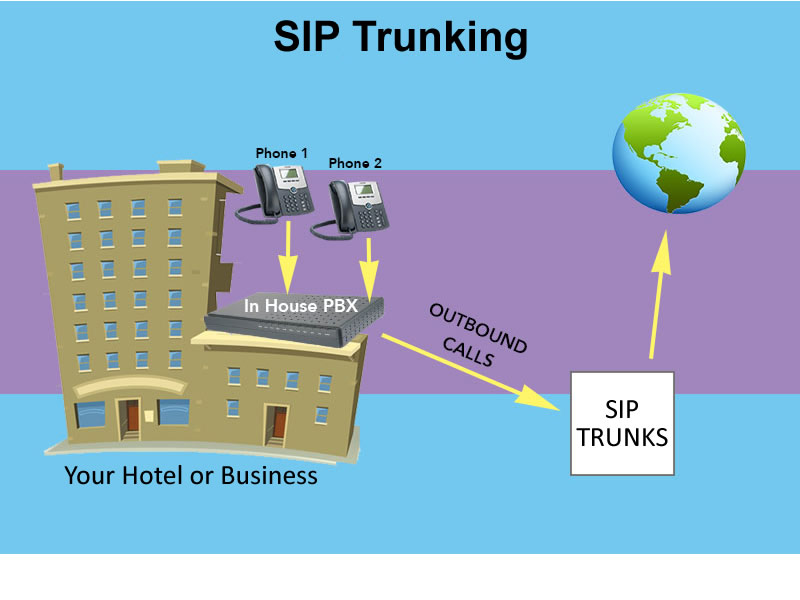 SIP Trunking is a great option for businesses that are looking for a cost-effective way to transition from a traditional PBX phone system to IP. Virtually any business can enjoy the benefits of SIP including:
Cost Savings – Enjoy the cost savings of converging your local and long distance onto a single circuit with dynamic bandwidth allocation.
Time Savings – Dedicated and knowledgeable Bandwidth technicians, installation teams and customer support specialists assure rapid deployment.
A Simplified Network – Experience the efficiency of managing a single network connection, receiving one bill and engaging one point of contact for all your telecom needs.
Seamless Integration – Preserve your existing capabilities via seamless integration with your existing SIP IP PBX system.
A Better Way to Grow – When you grow, adding more SIP Trunks is easy, and happens in days, not weeks. SIP Trunks can be installed and turned up remotely so you do not have any downtime.
How Much Can World Access Communications Save your Business with SIP Trunk Solutions ?
Please Contact a World Access Communications SIP Trunking Specialist today to receive a free cost savings analysis.