What is the Difference between a Toll Free Number Forwarding and Local Number Forwarding?
What is the difference between a toll free number and a local number? Local numbers have advantages for local advertising campaigns, and national toll free numbers are more prestigious for brand promotion. Many other differences drive your choice of numbers for your campaigns and promotions.
Regardless of the industry you are in, a businesses phone number is an essential asset that can lead to tremendous growth in your company. When trying to decide between a local number or toll free number for your business ask yourself, "How am I trying to position my business?" If your vision is to be seen as a larger company, then a toll free number is a the way to go. If you are looking to have a local presence and only receive a few long distance calls, then a local number is right for you. When deciding between a toll free number or local (DID) number there are a few factors to consider, lets define the difference between the two.
Toll Free Numbers
What is the Difference between a Toll Free Number and a Local Number?
Businesses that have a national brand or a national market benefit from a toll free number so they do not have to bear the pricey costs associated with placing long distance calls. A toll free number is one that a customer can dial from a landline or mobile and they will not get charged for calling, rather your company will pay the fees associated. The cost for a international toll free number is based on the amount of usage, the cost of trunk lines and sometimes a monthly flat rate service charge. Each toll free number is country specific, which means that only people within the country where the number is based can call the number.
Publish your local number on your website, in your emails, on your special offers that appear on your local page in any directories. Your Google Local page, your LinkedIn profile, your Facebook profile, your company Twitter profile, and the footer of every email you send should have your local number and your toll free number.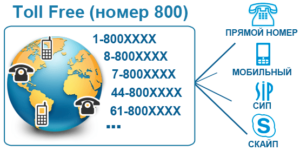 Some of the pros of utilizing international toll free numbers include:
– Enhance Credibility If your brand is not credible and exuding reliability, your business is likely to suffer. In fact, this is exactly where a toll free number can help (especially for small businesses). A toll free number grants nearly instant credibility to a business. It makes your company appear larger and more established.
– Improved customer service Businesses can build trust in a number of ways, but when the customer's needs are met with a friendly adviser, they are more likely to call back for additional products or services. By providing customer service with a toll free number, you can enhance the image of a successful and reliable business. Not only does it show the customer that you are accessible, but that you will go the extra step to have open communication that extends coast to coast.
– National coverage within the country an international toll free number should be your first step to grow your business internationally. With a toll free number, your business will instantly be perceived as larger than it is and will expand your business past your current region, state, country and beyond.
Local Numbers
If your customer base is relatively local, then a local number may be right for you. Local numbers, also called DID or DDI numbers, are specific to a local area or city. These types of numbers are available for purchase in thousands of cities across the world. When using a local number, charges would be incurred by the customer instead of your company. Some of the pros of using Local Numbers are:
– Create a local presence. Clients often prefer to deal with businesses that are local. An 800 number may make your business seem too impersonal or large. Customers can have the convenience of making a call to a local number as opposed to an 800 number or an unrecognizable area code. The local presence from these numbers is useful if you are trying to increase customers in a specific location. The local number shows potential customers that their market is important to you and they are more inclined to work with you because of it. It gives customers a sense that your company is close to home. With a local number, your placement in online searches and phone books may increase, therefore customers looking for a local business may come across your company.
– Great Features just like with toll free numbers, local phone numbers come with great features not offered by traditional telephone providers. Features such as, auto attendant and call recording help improve efficiency and customer relations. Local numbers also come with the ability to be forwarded just like toll free forwarding. Managing your calls with a user interface will also give your customer service representatives a more organized and structured way of handling and maintaining all calls.
– Local advertising many businesses use local numbers for their advertising strategies and marketing campaigns. When advertising to a specific region, it is important to provide a number that customers can call locally. Using a specific local phone number associated with an advertisement can also allow you to track how successful it is, identify what is not working and make necessary adjustments.
Whether an international toll free number or local (DID) number is right for your company depends on your specific business needs.